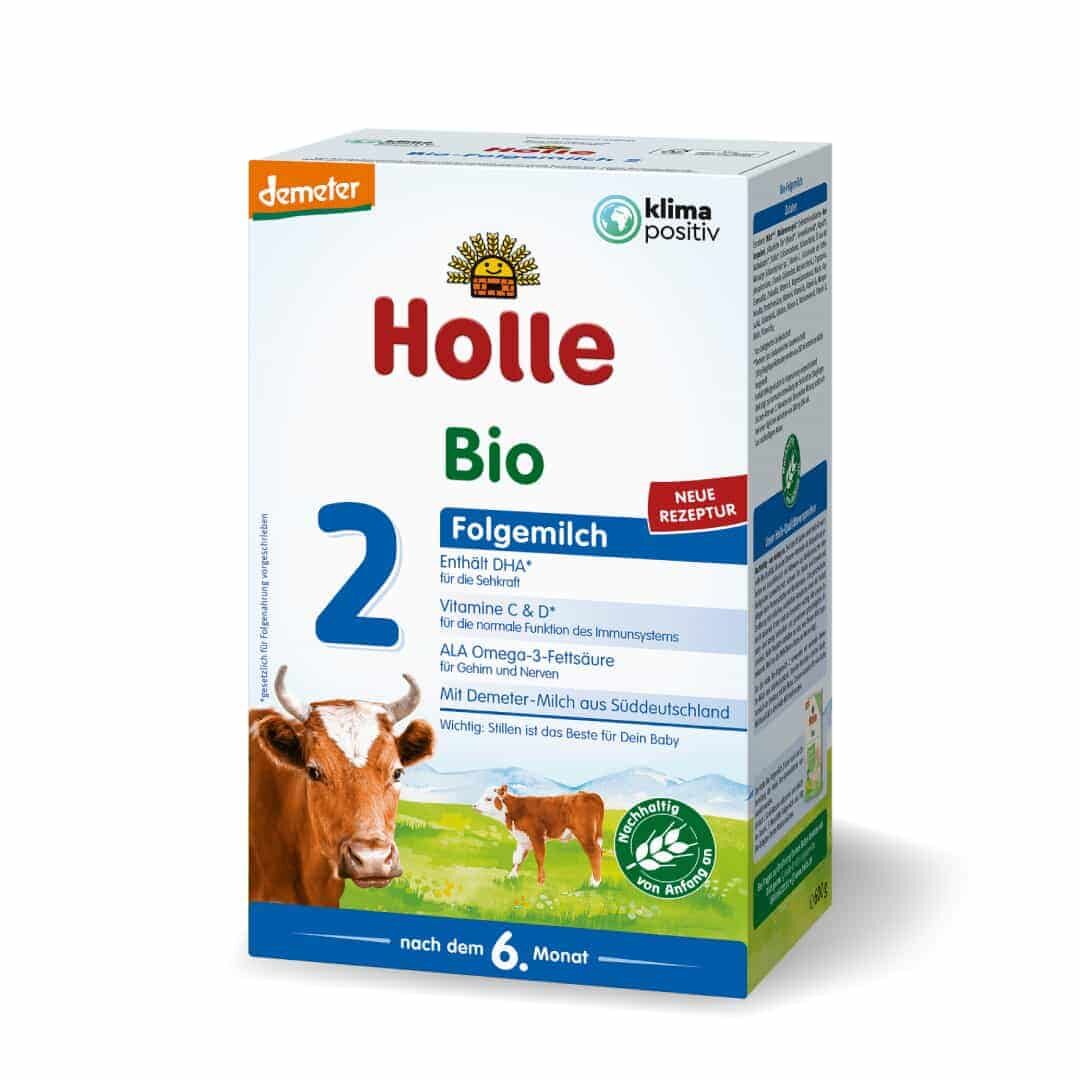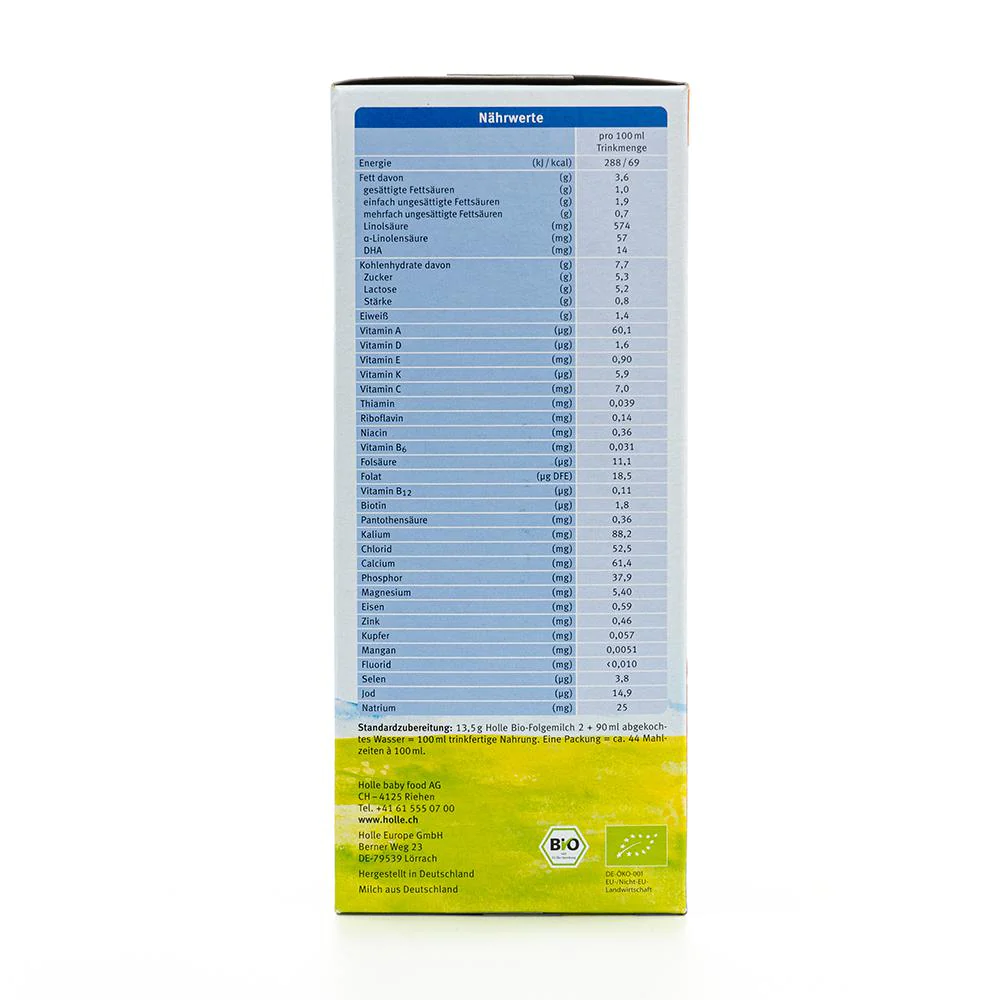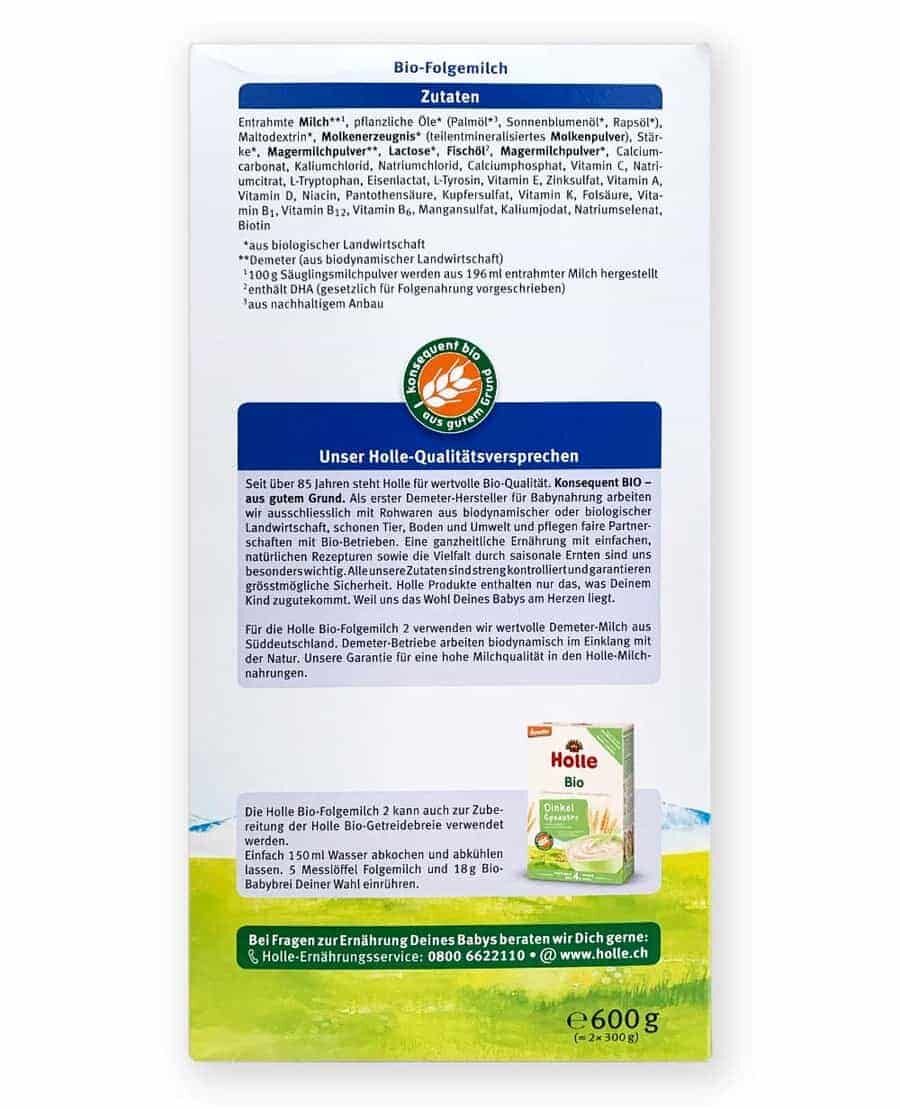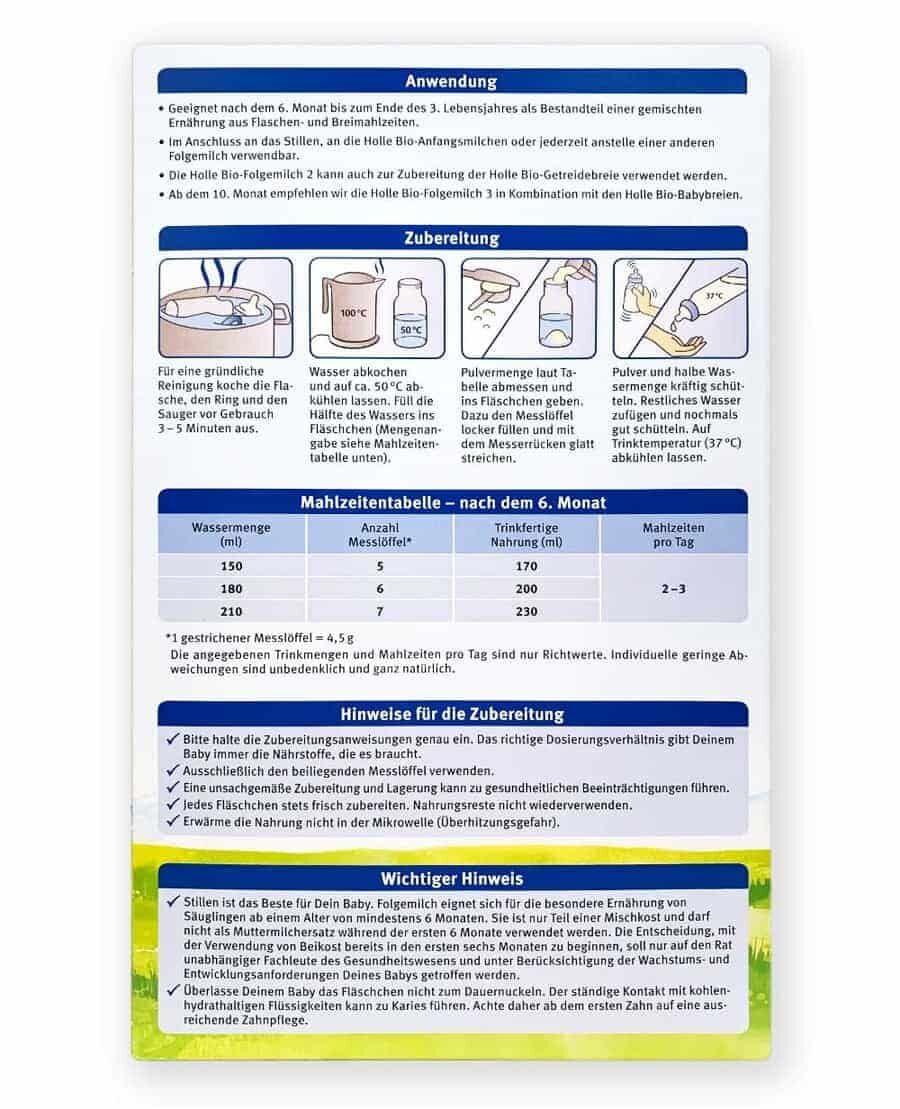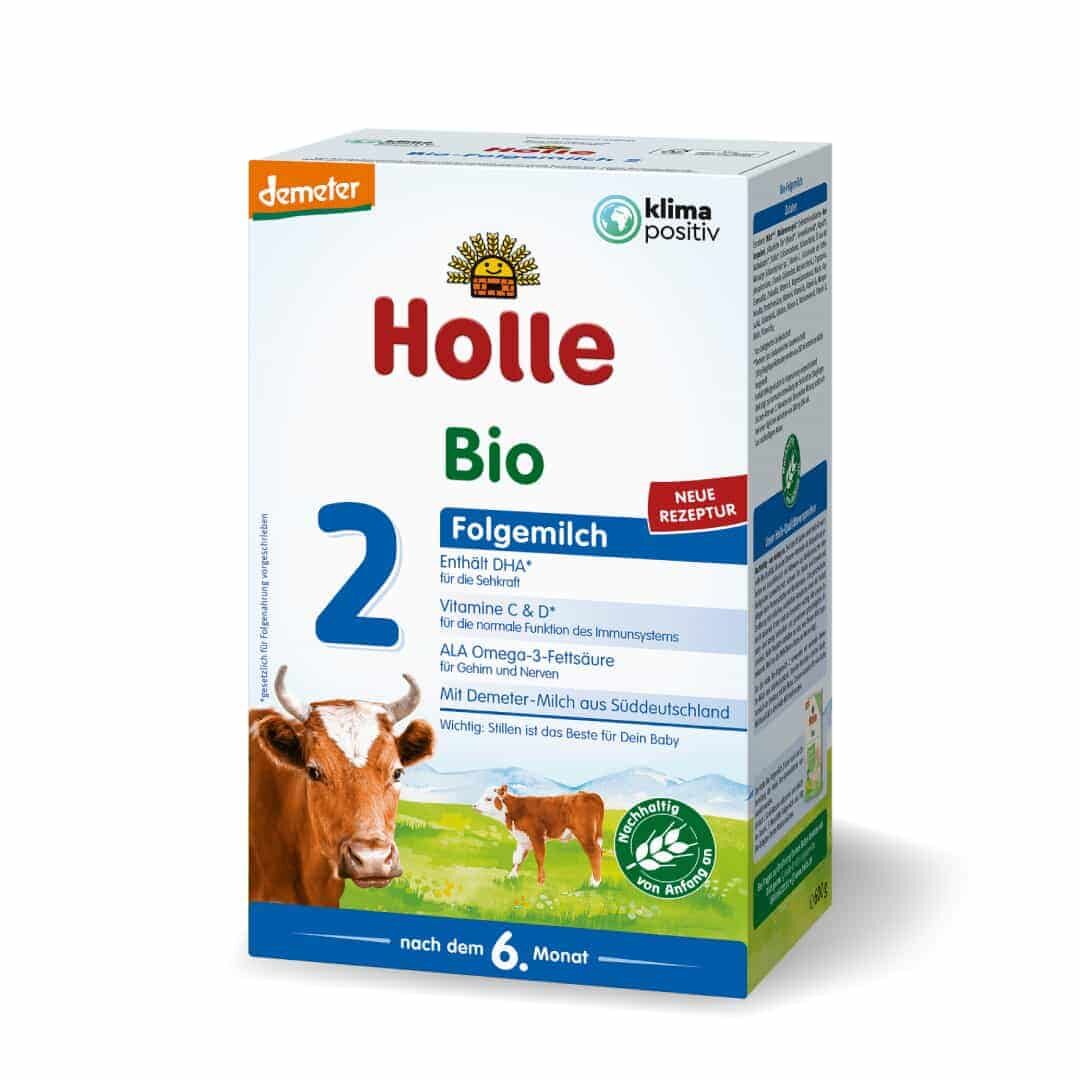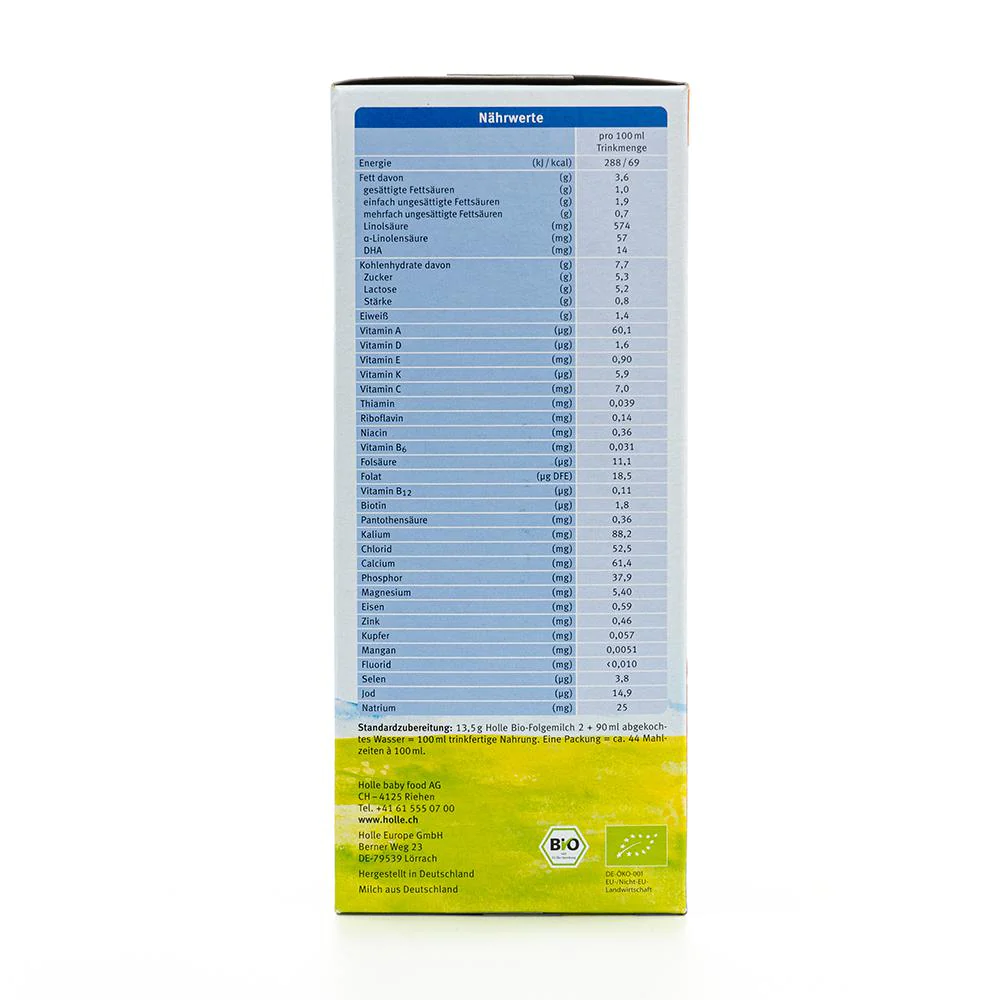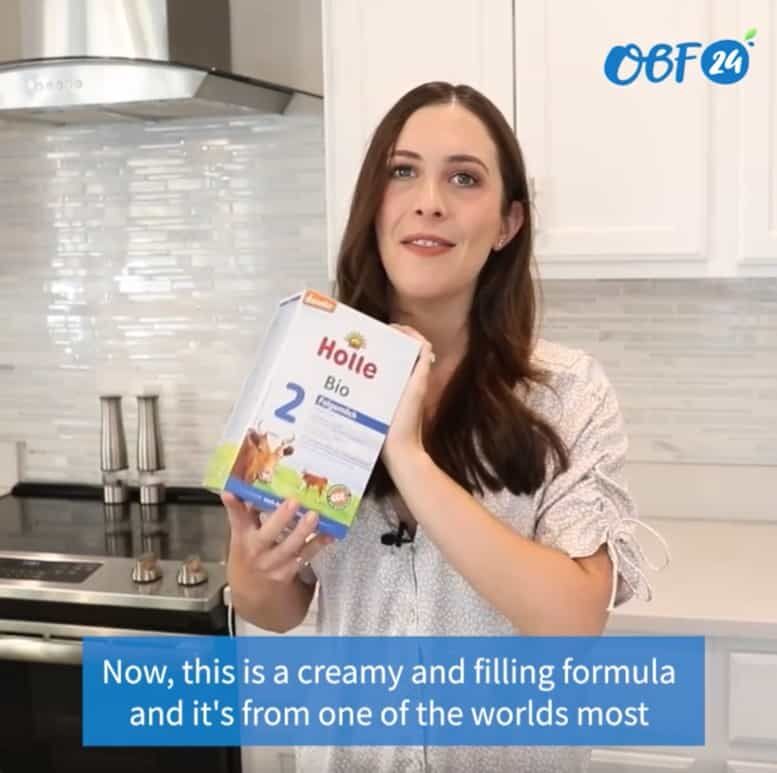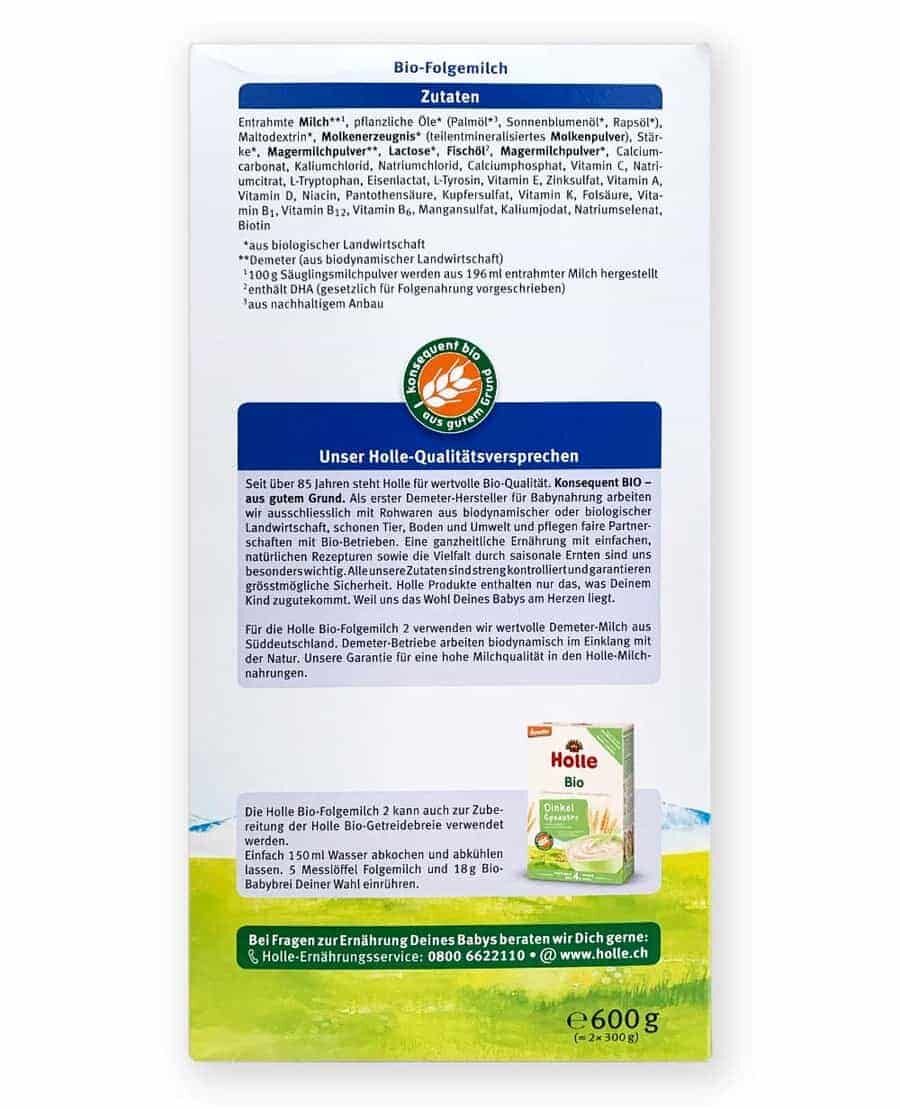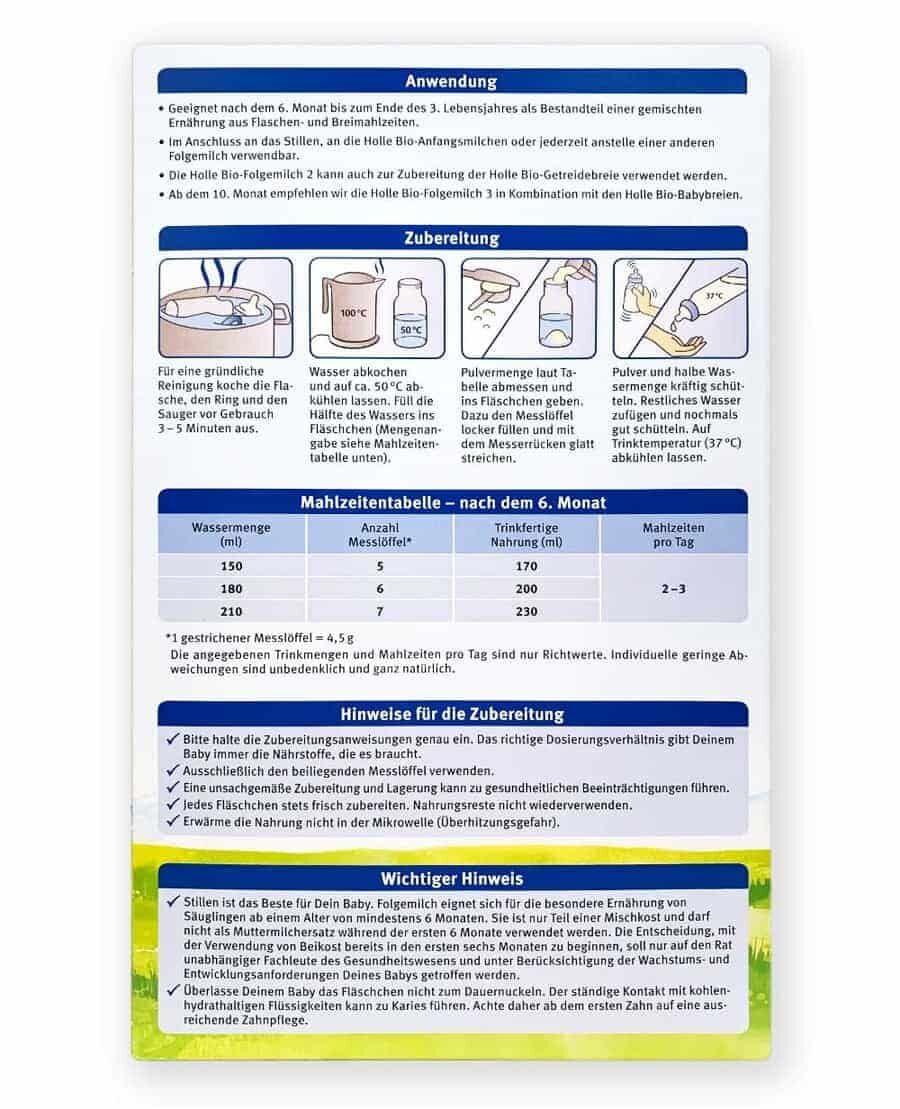 Holle Organic Stage 2 is a popular organic baby formula for 6+ month infants. It offers the nutrients they need without artificial preservatives or chemicals. A creamy, filling formula from one of the world's most respected Demeter-certified organic brands. It's safe, nutritious and full of brain-healthy fatty acids DHA and ARA. What more could a growing baby ask for?
"A formula that makes both mommy and baby happy. Best ingredients! Mixes so well, no bubbles like other formulas that cause baby gas. My little one loves this formula and I recommend to all my mommy friends!"

Leya Melnyk - Holle stage 2 customer


Non-GMO, gluten-free, hormone-free and antibiotic-free with zero added sugars, artificial preservatives, chemicals, flavors or colorings
Contains prebiotics, including lactic acid cultures originally obtained from breastmilk to support your baby's gut health and balance
Made from organic skim milk from German farms that meet highest European organic standards
$33.99
%
$39.99
(15% saved)
21.16 ounces of formula powder
CO2 neutral shipping available
🚀 Estimated Delivery:
🔥 Sold 9733 times in the last 30 days!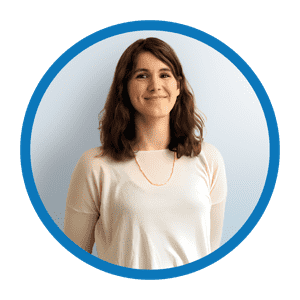 👋 HEY, I'M LAURA
I'm your personal Formula Expert and happy to help if you have any questions or require individual help. Drop me a message ›
Holle Organic Infant Follow-On Formula Stage 2 is the perfect next step for older babies who have been thriving on clean, high-quality formulas like Holle Stage 1 or Holle PRE. Holle Bio Stage 2 is a complete source of nutrition for babies six months and older, including those who are still breastfeeding and those who have begun eating solid foods. Because of its short list of ingredients, the Holle organic infant milk formula is a particularly good choice for babies who are transitioning to formula for the first time.
WHY WE LOVE IT:
Organic skim milk from cows raised on Demeter-certified farms
Demeter is the top certification for biodynamic farms, requiring annual renewal, biodiversity and ecosystem preservation, no GMOs, and more
Formulated for better sleep and healthy cognitive development
Chemical-free agriculture and manufacturing
No artificial preservatives, flavors, or colors
Milk from grass-fed German cows
GMO-free
Essential vitamins and nutrients
Instant preparation, ready in minutes. Just add boiled water and shake well
In order to meet the needs of growing babies, Holle Stage 2 contains larger quantities of micronutrients and macronutrients than Stage 1 and Stage PRE formulas, yet it maintains a very simple ingredients list for a high-quality organic baby formula: biodynamic organic skim milk, organic whey powder, organic maltodextrin and starch, organic vegetable oils, and essential vitamins and minerals. Manufactured and packaged in Germany, Holle Organic Stage 2 is completely free from synthetic nutrients and artificial preservatives, coloring, and flavors.
PERFECT FOR YOU IF:
Your baby is 6-12 months old
You want a formula at the highest organic standards (Demeter certification)
You want a nutritionally complete formula
Holle is one of the most highly-respected baby formula brands in the world, and this cow's milk-based formula meets the Demeter standard for organic, biodynamic farming, far surpassing the requirements for organic agriculture in the United States. Demeter certification requires annual renewal, ensuring that all Demeter farms are committed to biodiversity promotion, ecosystem preservation, and the highest animal welfare standards. Furthermore, the ingredients in Holle Stage 2 are derived entirely from GMO-free and chemical-free agriculture and manufacturing.
BACKED BY DATA:
From 6-12 months
21.16oz (600g)
90% of parents say their baby sleeps better with EU formula
1 box ≈ 44 meals
Should make approximately 150 fl oz of prepared formula
83% of parents in the U.S. will turn to formula

Holle Organic Stage 2 is a creamy, filling formula from one of the world's most respected Demeter-certified organic brands. It's safe, nutritious and full of brain-healthy fatty acids DHA and ARA. What more could a growing baby ask for?
Holle's Stage 1 and Stage 2 infant formulas are nutritionally almost the same. The only real difference is the ratio of proteins. Holle Stage 2 contains more casein protein to keep them full longer, while Stage 1 contains more whey and less casein. Holle stage 2 is specially made for 6+ months old babies because this is the stage when babies start eating solid foods.
Holle Stage 2 is ideal for babies from 6 months onwards. It has DHA sourced from fish oil and can be used to complement breastfeeding or on its own. If you've tried conventional formula and found your baby struggling to digest it, you might find that Holle is the gentle alternative you need.
Yes! Holle Stage 2 contains DHA and ARA to support neural tissues and boost cognitive performance. Some studies show that breastfed babies have higher IQs due to the DHA and ARA in breast milk. Luckily, Holle Stage 2 contains plenty of both!
Holle Stage 2 is gentle on the gut. It contains no starch, soy, gluten, added sugars or artificial preservatives, flavors or colorings. If your baby's reacted poorly to conventional formulas in the past, Holle Stage 2 may suit them better.
Yes! Holle Stage 2 supports immunity with vitamins A, C, D and B-12, as well as key electrolytes like potassium, magnesium and calcium. Vitamin C is a master antioxidant that protects the cells from inflammation, while B-12 activates immune cells and boosts energy. At the same time, electrolytes guard against dehydration: one of the leading causes of weakened immunity. Holle is also free of added sugars, which are proven to damage the immune system.
Maltodextrin is a plant-based sweetener. The primary characteristics of maltodextrin is its high solubility, easy and rapid digestibility (high glycemic index), and low sweetness. These characteristics work well in baby formula. High solubility means that the powdered formula will dissolve quickly and smoothly, which makes the formula easier for a baby to drink. The use of Maltodextrin in infant formulas is widely accepted and there have been no known disadvantages to consuming formulas with maltodextrin.
We recommend buying our Starter Kits which are specially made to provide you with formula supply for approx. two months.
In general, babies eat when they're hungry and stop when they're full. Appetites vary among babies, and each baby's nutritional needs change from day to day and month to month. If you follow the feeding charts printed on each box and check in regularly with your baby's doctor, your baby will likely be on track. A lot depends on your baby's appetite, but following numbers will give us a benchmark. On average, babies will need 2.5 ounces of formula per pound per day. So that average 8-pound newborn will need about 20 ounces of formula per day.
This is an extremely important question. If you do not follow the instructions correctly, you could possibly cause harm to your baby. But don't worry, the preparation of the formula is simple and quick.
Clean bottle, teat and ring in boiling water for 3 - 5 minutes before use.
Boil water freshly before each meal and allow to cool down to about 50°C / 122°F Fill approximately half of the boiled water into the cleaned bottle.
Use the measuring spoon provided and according to the instructions, add the correct number of scoops. Each spoon should be filled flat and not heaping.
Close the bottle tightly shake until all the powder has completely dissolved. Add remaining water and shake lightly again until the solution is evenly distributed and diluted.
Allow to cool down (hold the bottle under cold running water or in the refrigerator) to approximately 37°C / 98.6°F before feeding. To prevent burns, test the formula on your forearm to ensure that it is not too hot. Feed immediately.
Extra Tips:
Only use the scoop provided in the pack.
Do not make feeds weaker or stronger than indicated by adding extra water/scoops, and do not add anything else to milk feeds.
For hygiene, always freshly prepare feeds and do not prepare in advance. Use feeds immediately, and discard leftovers at the end of the feed.
Bottles at room temperature should be used within 2 hours. Bottles in a cooler with ice or a cold pack should be used within 4 hours. Bottles in the fridge should be used within 24 hours.
Do not heat feed in a microwave as hot spots may occur which could cause scalding. - All open formulas should be used within 21 days. All sealed formulas should be used by the expiration date on the box.
Yes. As a child grows and changes, so do his nutritional requirements. To ensure your baby is getting all of the nutrients he needs to grow and thrive, we recommend you use the stage of formula that corresponds with his age. European Formula manufacturers have spent many years perfecting formulations to ensure every stage of your baby's dietary needs is met.
Babies aren't exactly the quietest bunch when they're hungry, and we want to get their food to them fast! Therefore, our products are coming fresh from Europe straight to your door within an average of 3 business days.
All packages are prepared in Germany and sent out to their destination countries. Delivery costs, therefore, vary according to your country:
Canada & USA = $35
All other international shipments: $55
We source baby formulas directly from the manufacturers rather than third-party suppliers, so counterfeit products are impossible. All of our formulas are shipped directly from Germany. They are stored in our climate-controlled warehouses until a customer places an order, so we have oversight of the product throughout the distribution process.
All of our customers must receive baby formula in completely intact packaging. If, for some reason, your purchase arrives and appears damaged in any way, please let us know and send us a picture. We are really serious about ensuring that our customers receive their baby formula on time and never have to worry about verifying the authenticity of the product or checking up on its quality.
We are a parents-founded and operated organic food company based in Germany. In 2011, we started our Idea in a dormitory in Hannover, and step-by-step, we grew our business into what it is today. In addition to OBF24's move from a small dormitory to a new warehouse and its physical expansion, our ideas, employees, and experiences have grown as well.
We have more than 11 years of experience under our belts, thousands of excellent reviews, tens of thousands of orders that have been punctually shipped without incidents to our increasingly growing customer base.
OBF24 would not be here today without the continued support of our community. We look forward to bringing you healthy, high-quality Organic Formula from Europe that fits your family's needs for years to come :)
🚀 BECAUSE HUNGRY BABIES CAN'T WAIT, WE DO OUR BEST TO ENSURE THE QUICKEST DELIVERY TIMES POSSIBLE
Babies aren't exactly the quietest bunch when they're hungry, and we want to get their food to them fast! That's why we pack, process, and ship your order soon after you've placed it. We process orders Monday through Friday. Orders placed on the weekend will be processed on the following Monday morning.
We also care about packaging and have put a lot of attention into the way OBF24 products come out of the box. We think you'll love it. And because your package has a long way to go, we pack it very carefully with 100% recyclable packaging material to make sure that it arrives in good condition.
⏱️ CURRENT DELIVERY TIME AND COSTS:
Our products are coming fresh from Europe straight to your door within an average of 3 business days for US and Canadian customers (other Countries 5 business days).
🇺🇸 & 🇨🇦 = Free Shipping from $99 (otherwise $35)
🌏 = Free Shipping from $199 (otherwise $65)
Please note shipping times are based on our experiences and can't be guaranteed. We are committed to doing all in our power to ensure your order arrives on time. However, delivery time may take longer in exceptional cases due to postal mishandling, customs authorities, or natural hindrances.


♻️ CO2 NEUTRAL SHIPPING UPGRADE:
Thanks to modern vehicles and efficiently planned tours, our delivery companies have already reduced a large proportion of climate-damaging CO2 emissions. However, complete avoidance is currently not technically feasible. Therefore we offer the possibility of offsetting remaining emissions by investing in climate protection projects.
With additional $20, you can help restore the planet.
📌 RETURN POLICY:
If your baby has a bad reaction to a formula you've purchased from OBF24, we will do everything we can to help you find the right option for your little one. Our team of formula experts will work with you to determine the formula that best meets your baby's needs. We encourage our customers to get in touch with us if they need assistance.
Unfortunately, Organic Baby Formula is excluded from the right to return. As we guarantee that our product is authentic and comes directly from the manufacturer, we cannot take returns, even if they are unopened. We do not restock the formula once it has left our warehouse. This provides security to our customers that the product they receive is authentic and not a counterfeit formula.
🛃 IMPORT DUTY AND CUSTOMS:
There is a low chance that customs will charge extra fees. Anyway, customs policies vary widely from country to country. Orders shipped outside the EU may be subject to import taxes, customs duties, and fees. When customs clearance procedures are required, it can cause delays beyond our original delivery estimates.
OBF24 takes no responsibility regarding the local rules and regulations concerning our sold products for our customers located outside of Germany as that is the recipient's responsibility.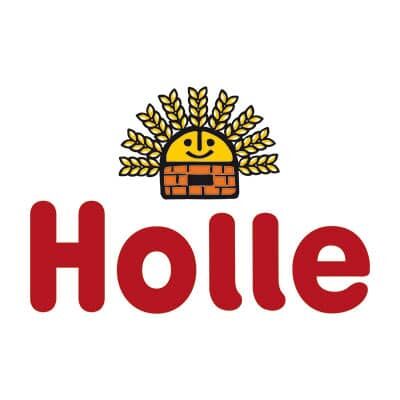 HOLLE
Since the very beginning, over 75 years ago, Holle has focused on naturalness and the use of pesticides or chemical fertilizers is strictly prohibited without any compromises. Today they are still using only raw ingredients grown to biodynamic or organic standards (Demeter) for their premium organic baby food. This is the basis for the exceptional quality of Holle baby food. Healthy and happy cows can graze on lush fields and pastures - free of pesticides or chemical fertilizers.
Holle is one of the world's leading baby food brands.
Holle uses only the best ingredients in their cow and goat milk organic formulas. Starting with well-cared-for animals that pasture on lush biodynamic fields, Holle forms the base of their formula with the best milk available. After gentle processing to make the milk suitable for your baby's digestive system, Holle adds oils that contain essential fatty acids, organic maltodextrin, and starch to make the formula creamy and sustaining and all the vitamins and minerals that will make your baby strong and healthy. They never use added sugars, chemicals, preservatives or synthetic ingredients. All of their ingredients are organic and GMO-free.
Only strictly regulated partners are able to use the Demeter label.
These regulations are set by the Demeter Society, whose criteria extend far beyond the standard Organic Farming certification. From growing to processing, all stages of production are checked - without any compromises. Foods that carry the Demeter label have been grown to strict biodynamic standards - in harmony with nature. Whether soil, seeds, plants, animals or humans - each element in the agricultural system has its own uniquely important role. Each element supports and strengthens the others and creates a farm that is a natural and self-contained living organism.
The use of chemical and synthetic pesticides, fertilizers and GM technology is strictly prohibited in Demeter agriculture, as is the addition of questionable ingredients during processing. Grown in harmony with nature, Demeter-certified grains are full of flavor and vitality. Holle only uses whole grains for their porridges. This makes sure your baby gets the most goodness from every mouthful. Holle cooks the grain using the very gentlest of methods and then finely ground them so every Holle porridge can be easily digested by young babies.
Quality through animal husbandry in a way that is natural to the species.
Animal husbandry in a natural way to each species affects the composition of the cow's milk. It contains quite a lot of vitamin E and beta carotene. There is a high proportion of valuable omega-3 and omega-6 fatty acids in the fat. The taste of Organic Milk is delicious and harmonious due to the proportion of herbs in the feed.
Holle formula is sold all over the world because the quality is up there with the finest on the planet. In short, if you're looking for the best food to feed your baby for the first few years of life, Holle is one of the few companies you can count on.
SKIMMED MILK**1, WHEY POWDER* (PARTLY DEMINERALISED), VEGETABLE OILS* (PALM OIL*3, SUNFLOWER OIL*, RAPESEED OIL*), MALTODEXTRIN*, STARCH*, CALCIUM CARBONATE, POTASSIUM CHLORIDE, OIL FROM THE MICROALGAE SCHIZOCHYTRIUM SP.2, VITAMIN C, CALCIUM SALTS OF ORTHOPHOSPHORIC ACID, L-TYROSINE, POTASSIUM CITRATE, SODIUM CHLORIDE, L-TRYPTOPHAN, FERROUS SULPHATE, ZINC SULPHATE, VITAMIN E, MAGNESIUM CARBONATE, NIACIN, COPPER SULPHATE, PANTOTHENIC ACID, VITAMIN A, THIAMIN, VITAMIN B6, MANGANESE SULPHATE, POTASSIUM IODIDE, FOLIC ACID, VITAMIN K, SODIUM SELENITE, VITAMIN D, BIOTIN, VITAMIN B12
*FROM ORGANIC FARMING
**DEMETER (FROM BIODYNAMIC FARMING)
1 100 G OF INFANT FORMULA POWDER ARE MADE FROM 182 ML SKIMMED MILK
2 CONTAINS DHA (AS REQUIRED BY THE LEGISLATION FOR ALL FOLLOW-ON FORMULA)
3 FROM SUSTAINABLE FARMING
---
1 - 10 of 330 reviews
Bethany D.
March 28, 2023 14:42
Order arrived quickly (within 5-6 days of
Order arrived quickly (within 5-6 days of ordering). Packaging was great. I don't have a lot of experience with formula, as this was the first one we tried based on a friend's recommendation. Baby (six months old) seems to love it. We've had no tummy trouble and no issues switching from exclusively breast milk to this cow's milk formula. Based on the experience we've had, I would recommend it to anyone looking for a healthier alternative to what is sold in the U.S.
Shanda S.
March 17, 2023 19:00
My son loves this formula. He's transitioning
My son loves this formula. He's transitioning to the next stage and is easy on his stomach too.
John C.
March 5, 2023 15:56
This brand agrees with my baby's stomach,
This brand agrees with my baby's stomach, and dissolves into water easily.
Liat W.
February 25, 2023 02:53
Everything was perfect about my order- the
Everything was perfect about my order- the formula is easy for my baby to digest, the order came SO quickly, and the customer service has always been amazing. I started giving my first born Holle when I needed to supplement, and now I'm buying it for my second baby. It's mind easing to know that you're giving your baby such a good quality product- the next best thing to breast milk.
Elisena M.
February 23, 2023 00:39
Best Formula
Stephen O.
February 19, 2023 13:16
Used Holle exclusively for two babies and they love it!
It's so great for the baby, way better than the American stuff he spits up all the time
Stacie M.
February 15, 2023 23:56
We love this product - it is extremely high quality and we know our child is getting the best nutrition available.
Jie M.
January 6, 2023 22:22
My little one love this product.
My little one love this product.
Dan B.
December 13, 2022 04:27
Great product! Delivered very quickly
Great product! Delivered very quickly
Jacob G.
December 3, 2022 22:51
Great product from a great store that I highly recommend
Our 4 month old baby loves this formula. And we feel great giving her formula that we know is healthy and safe. Shipping was fast and everything was intact. All service was great.