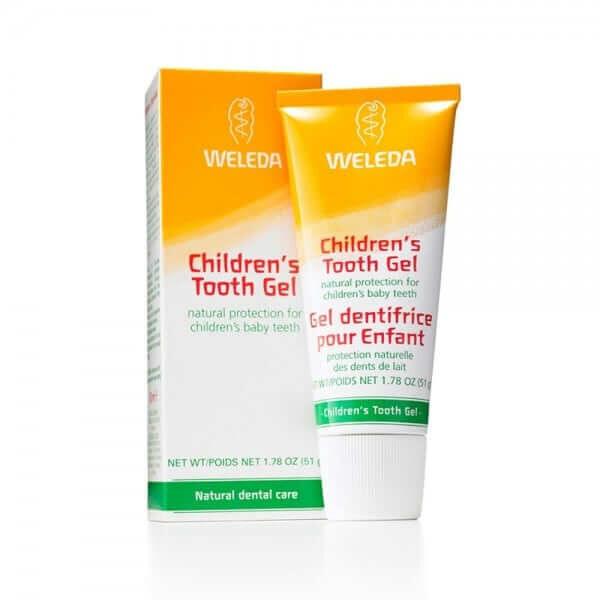 Effective cleanser for young children's sensitive milk teeth.
Start your children's good toothcare habits with our pleasant-tasting non-fluoride toothpaste – especially for first teeth.
Don't worry! This product will be available very soon.
🔥 Don't wait! This high-demand product is flying off the shelves. We're constantly restocking to keep up with your enthusiasm.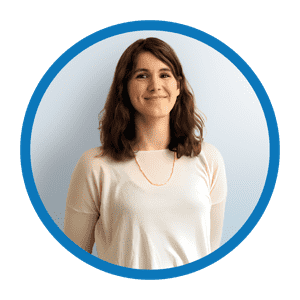 👋 HEY, I'M LAURA
I'm your personal Formula Expert and happy to help if you have any questions or require individual help. Drop me a message ›
Deeply clean children's delicate first teeth. Children's Tooth Gel looks after new and developing teeth and, along with brushing and good eating habits, it helps teeth feel clean and refreshed. With extracts of calendula flowers to keep gums clean, silica for thorough cleaning and flavors of fennel and spearmint, it makes cleaning teeth a happy ritual. There are no ingredients which could cause harm if swallowed – no fluoride either. It's everything good you want for your child's early teeth.
BENEFITS:
Gentle effective cleanser with pleasant-tasting, essential oils. Silica gently cleans teeth to help keep teeth clean and refreshed. Fluoride-free. Free of sugar, artificial sweeteners, surfactants, synthetic preservatives, flavors, colorants, or raw materials derived from mineral oils. No harmful ingredients if swallowed. Certified natural by NATRUE.
🚀 BECAUSE HUNGRY BABIES CAN'T WAIT, WE DO OUR BEST TO ENSURE THE QUICKEST DELIVERY TIMES POSSIBLE
Babies aren't exactly the quietest bunch when they're hungry, and we want to get their food to them fast! That's why we pack, process, and ship your order soon after you've placed it. We process orders Monday through Friday. Orders placed on the weekend will be processed on the following Monday morning.
We also care about packaging and have put a lot of attention into the way OBF24 products come out of the box. We think you'll love it. And because your package has a long way to go, we pack it very carefully with 100% recyclable packaging material to make sure that it arrives in good condition.
⏱️ CURRENT DELIVERY TIME AND COSTS:
Our products are coming fresh from Europe straight to your door within an average of 3 business days for US and Canadian customers (other Countries 5 business days).
🇺🇸 & 🇨🇦 = Free Shipping from $149 (otherwise $35)
🌏 = Free Shipping from $249 (otherwise $65)
Please note shipping times are based on our experiences and can't be guaranteed. We are committed to doing all in our power to ensure your order arrives on time. However, delivery time may take longer in exceptional cases due to postal mishandling, customs authorities, or natural hindrances.


♻️ CO2 NEUTRAL SHIPPING UPGRADE:
Thanks to modern vehicles and efficiently planned tours, our delivery companies have already reduced a large proportion of climate-damaging CO2 emissions. However, complete avoidance is currently not technically feasible. Therefore we offer the possibility of offsetting remaining emissions by investing in climate protection projects.
With additional $20, you can help restore the planet.
📌 RETURN POLICY:
If your baby has a bad reaction to a formula you've purchased from OBF24, we will do everything we can to help you find the right option for your little one. Our team of formula experts will work with you to determine the formula that best meets your baby's needs. We encourage our customers to get in touch with us if they need assistance.
Unfortunately, Organic Baby Formula is excluded from the right to return. As we guarantee that our product is authentic and comes directly from the manufacturer, we cannot take returns, even if they are unopened. We do not restock the formula once it has left our warehouse. This provides security to our customers that the product they receive is authentic and not a counterfeit formula.
🛃 IMPORT DUTY AND CUSTOMS:
There is a low chance that customs will charge extra fees. Anyway, customs policies vary widely from country to country. Orders shipped outside the EU may be subject to import taxes, customs duties, and fees. When customs clearance procedures are required, it can cause delays beyond our original delivery estimates.
OBF24 takes no responsibility regarding the local rules and regulations concerning our sold products for our customers located outside of Germany as that is the recipient's responsibility.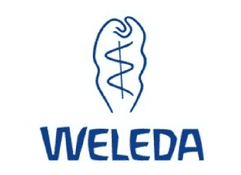 Weleda
What started in 1921 as a pharmaceutical laboratory, with its own plant garden, is today a world-leading manufacturer of certified natural by NATRUE personal care. Weleda's founder, Dr. Rudolf Steiner, along with Dr. Ita Wegman, and a team of scientists created the first synergistic products orchestrated to reconnect the body with its natural rhythms.
Today, Weleda is represented in over 50 countries on all five continents. The three main sites are still where Weleda's history began: in Arlesheim, near Basel in Switzerland, in Schwäbisch Gmünd near Stuttgart in Germany, and in the French city of Huningue, Alsace. From these bases, Weleda produces hundreds of natural cosmetics and thousands of pharmaceuticals, still partly produced from medicinal plants of our own gardens.
Responsible dealings with both nature and people have always formed part of our business, ever since Rudolf Steiner articulated his vision of a company completely at the service of human beings and the world as a whole. Whether it's through fair trade, biodynamic cultivation, or the supportive development of Weleda's employees – sustainability is part of their roots.
Glycerin, Water (Aqua), Silica, Algin, Calendula Officinalis Flower Extract, Prunus Amygdalus Dulcis (Sweet Almond) Oil, Esculin, Flavor (Aroma)*, Limonene*. *from natural essential oils
---
Paul Gurski
February 8, 2021 15:35
Our son loves brushing hi...
Our son loves brushing his teeth with this. I am so happy to have found a paste that is clean and good for his growing teeth. We have had no problems with brushing teeth.
Crystal Moreno
October 17, 2020 21:06
My daughter LOVES this toothpaste!
Tried many other kinds when out and my daughter has been unhappy. When this finally came she said I LOVE THIS TOOTHPASTE!
Paul Gurski
October 15, 2020 03:12
This is our second order ...
This is our second order of this paste. It is a hit with the little guy. THANKS!
LUCYA K.
October 4, 2017 15:13
Our toddler only wants to...
Our toddler only wants to use this product!