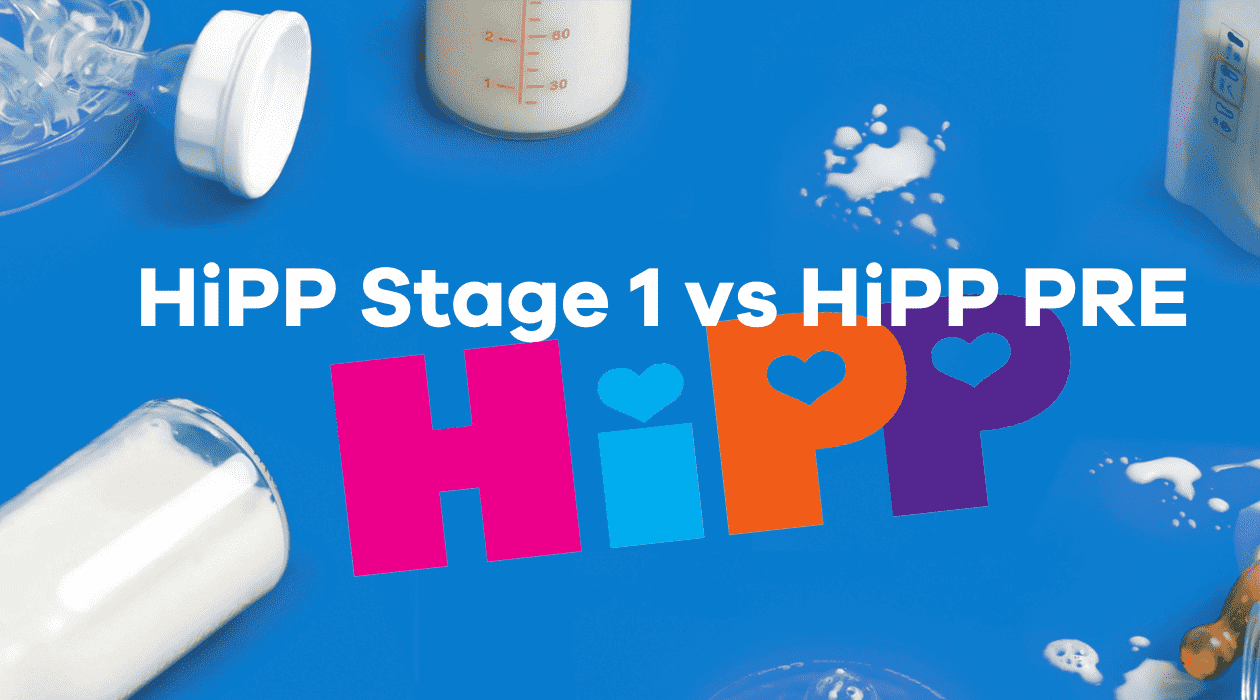 Hipp Stage 1 vs Hipp Stage PRE: A Detailed Comparison
May 16, 2023
Laura
🍼 OBF24™ BLOG
When it comes to infant nutrition, HiPP Organic Formulas are a popular choice among parents worldwide. These products are known for their high-quality ingredients, organic certifications, and close adherence to breastfeeding nutrition. However, the difference between HiPP Stage 1 and HiPP PRE can be puzzling. This article provides a comprehensive comparison between these two stages, aiding parents in making an informed decision.
Understanding HiPP Stage PRE
HiPP Stage PRE is designed as a complete substitute for breast milk from birth onwards. It's packed with essential nutrients like vitamins, minerals, and high-quality proteins. However, its standout feature is the carbohydrate source - lactose, just like in breast milk.
Key Features of HiPP Stage 1
HiPP Stage 1, on the other hand, is also suitable from birth, but it includes organic starch along with lactose. This addition makes the formula more satiating, potentially leading to longer periods between feedings. It contains the same essential vitamins, minerals, and proteins as HiPP Stage PRE.
Comparing Nutritional Values: HiPP Stage 1 vs HiPP Stage PRE
When comparing nutritional values, both HiPP Stage 1 and HiPP Stage PRE offer similar benefits. They both contain DHA (required by EU law for infant formula), organic lactose, and prebiotics. However, there's a key difference in carbohydrate sources, as mentioned earlier.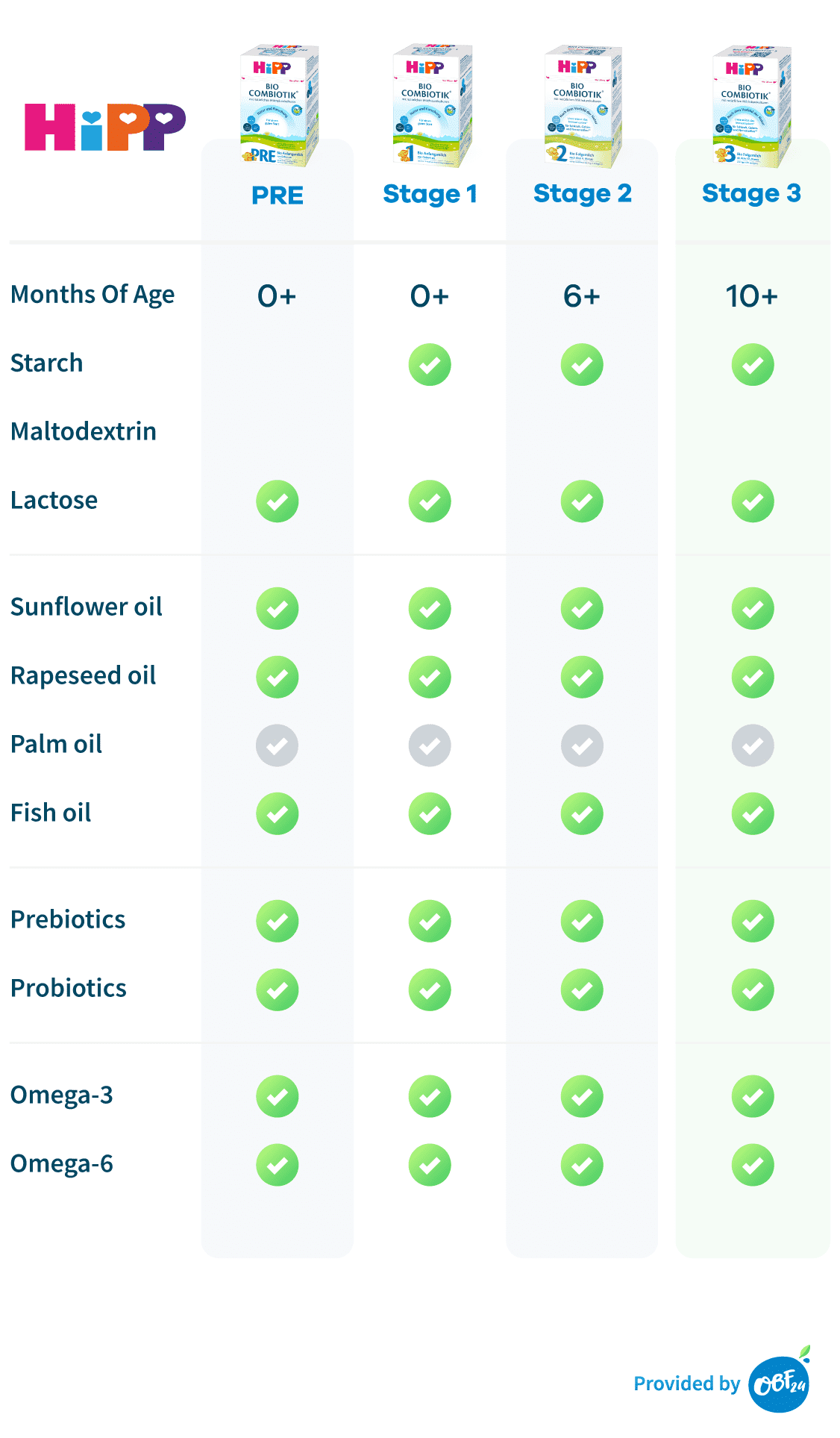 Energy Content
HiPP Stage 1 has slightly more energy content than HiPP Stage PRE, primarily because of the added starch. This higher energy content might be more suitable for infants with higher energy needs.
Carbohydrate Sources
HiPP Stage PRE uses only lactose as the carbohydrate source, replicating the composition of breast milk. HiPP Stage 1, while still primarily lactose-based, includes organic starch, which may help in keeping your baby full for longer periods.
Suitability
Both HiPP Stage 1 and HiPP Stage PRE are suitable from birth. However, HiPP Stage PRE is often chosen for newborns due to its closer resemblance to breast milk, while HiPP Stage 1 is sometimes introduced after the first few weeks, or when a more satiating formula is needed.
Making the Right Choice: HiPP Stage 1 or HiPP Stage PRE?
Choosing between HiPP Stage 1 and HiPP Stage PRE depends on your baby's specific needs. If your baby is exclusively formula-fed from birth, HiPP Stage PRE might be a more suitable option due to its lactose-only content. However, if you're looking for a formula that might keep your baby satiated for longer, HiPP Stage 1 could be a better choice.
In conclusion, both HiPP Stage 1 and HiPP Stage PRE offer high-quality, organic nutrition for your baby. The decision between the two largely depends on your baby's unique needs and how you plan to incorporate formula into their diet. We always recommend consulting with a pediatrician or a qualified health professional before making any changes to your baby's diet.


Switching Between HiPP Stage 1 and HiPP Stage PRE
Transitioning between these two stages should be a gradual process. Start by replacing one feeding with the new formula and see how your baby reacts. If there are no adverse reactions, you can slowly replace more feedings.
Storage and Preparation of HiPP Formulas
Both HiPP Stage 1 and HiPP Stage PRE should be stored in a cool, dry place and used within three weeks of opening. Always ensure to follow the instructions on the package for safe and correct preparation.
Conclusion
In essence, both HiPP Stage 1 and HiPP Stage PRE are excellent choices for your baby's nutritional needs, providing a great foundation for their growth and development. Always remember, every baby is unique, and what works best for one might not work as well for another. Always take into consideration your baby's specific needs, and consult with a healthcare professional if you have any doubts. Your baby's health and happiness are what matters most!
Frequently Asked Questions
💭 How Do I Prepare HiPP Stage 1 and HiPP Stage PRE Formulas?
To prepare both formulas, boil fresh water and let it cool down to approximately 50 degrees Celsius. Fill about half of the required water into the bottle. Add the recommended amount of formula powder using the scoop provided, level off the excess. Close the bottle and shake it thoroughly. Add the remaining water and shake again until the powder is completely dissolved.
💭 Are There Any Allergens in HiPP Stage 1 and HiPP Stage PRE?
Both HiPP Stage 1 and HiPP Stage PRE are designed to be gentle on infants' stomachs. However, they do contain milk and fish oil, which could cause allergic reactions in sensitive babies. Always check the ingredient list and consult with your healthcare provider if your baby has known food allergies or intolerances.
💭 Can I Mix HiPP Stage 1 and HiPP Stage PRE with Breast Milk?
Yes, you can mix these formulas with breast milk. This can be an excellent way to gradually introduce formula to a breastfed baby or to supplement breastfeeding.
💭 Is It Safe to Warm HiPP Formulas in the Microwave?
Warming formulas in the microwave is not recommended due to the risk of uneven heating, which can create hot spots and potentially burn your baby's mouth. It's safer to warm the bottle in a bowl of warm water or use a bottle warmer.
💭 Can I Reuse Leftover HiPP Stage 1 or HiPP Stage PRE Formula?
For safety reasons, any leftover formula that has been in contact with your baby's mouth should be discarded after an hour. Bacteria from the mouth can multiply rapidly in warm milk, so it's always best to prepare a fresh bottle for each feeding.
💭 Can I Start with HiPP Stage 1 Directly?
While it's completely safe to start with HiPP Stage 1, many parents prefer starting with HiPP Stage PRE due to its 100% lactose content, making it closer to breast milk in its composition. However, each baby is unique and may have different preferences and nutritional needs, so starting directly with HiPP Stage 1 could work just as well.