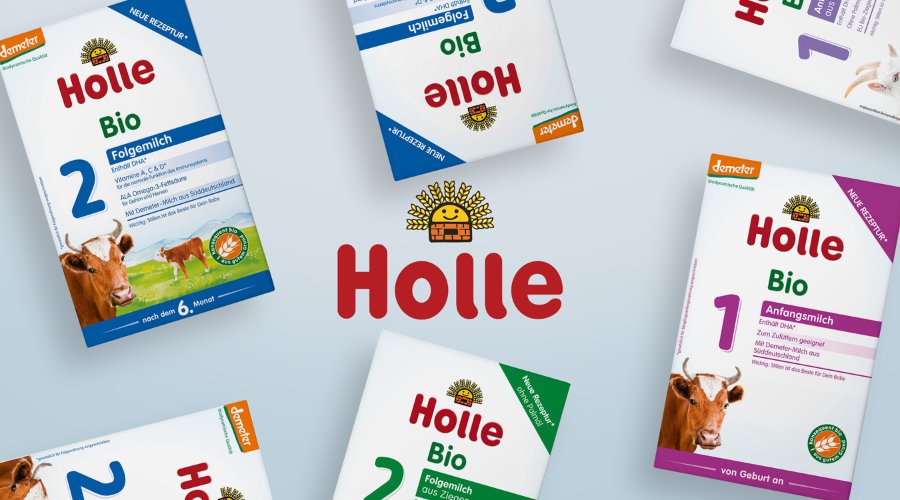 Holle Baby Formula: Everything Parents Need to Know!
April 2, 2023
Laura
🍼 OBF24™ BLOG
Holle organic baby formula emerges as a top choice for parents committed to providing the best for their babies. This premium formula, crafted with top-tier ingredients, offers all the essentials for your little one's growth. At OBF24, we believe your baby deserves nothing but the best, so we proudly offer Holle organic infant formula. And with our Best Price Guarantee, you can guarantee you get the best deal on this top-quality product.
Diverse Options for Your Baby's Needs
Holle presents both organic cow milk and organic goat milk formulas, ideal for lactose-sensitive babies. These formulas stand out as they contain no artificial growth hormones, antibiotics, or synthetic additives. Embracing organic principles, Holle ensures your baby receives the most natural nutrition possible.
Choosing Holle: What Sets it Apart
The legacy of Holle dates back to 1933, a Swiss-based company dedicated to producing Demeter quality formulas from wholesome ingredients. Holle stands unique by shunning preservatives in all products and offering goat milk options. Their extensive product range spans infant formula, follow-on formula, baby food and cereals, catering to all stages of early childhood.
The Demeter Difference
Holle distinguishes itself with Demeter Certification, signifying biodynamic farming practices in ingredient cultivation. These practices, rooted in biodiversity, ecological harmony, and soil health, result in the highest-quality formulas that nourish infants and toddlers. The Demeter seal ensures ingredients' natural and eco-conscious origins, offering your child an optimal start in life.
Biodynamic Farming Unveiled
Holle's formulas source ingredients from crops cultivated via Demeter biodynamic farming, emphasizing holistic ecosystem health. These farmers refrain from herbicides, chemicals, and synthetic pesticides, opting for sustainable methods like crop rotation and composting. Biodynamic farms foster rich biodiversity, benefiting not only plants but also beneficial insects, birds, and mammals. This sustainable approach produces healthier, more flavorful food, contributing to a sustainable food system.
Benefits of Opting for Organic Formula
Opting for an organic baby formula like Holle assures that your child receives the best. Organic formulas adhere to stringent international standards, abstain from synthetic pesticides, GMOs, and irradiation. Holle's approval by the European Commission, known for stricter regulations than the US FDA, underscores its unwavering commitment to these elevated standards.
Nutrients in Holle Baby Formulas: Fueling Healthy Growth
Holle's unwavering dedication to infant nutrition is evident in the meticulously balanced macronutrients present in their baby formulas. These essential macronutrients form the cornerstone of your baby's healthy development, providing the energy and building blocks necessary for their growth.
Fats: Nurturing Brain and Body
Holle Organic Formula shines with naturally occurring fats derived from organic milk and vegetable oils. These fats play pivotal roles in your baby's development. They actively support the growth and maturation of your baby's brain and nervous system. Furthermore, these essential fats help maintain the softness and health of your baby's skin, creating that adorable, cuddle-worthy baby softness.
The fat content in Holle Organic Formula is meticulously balanced, ensuring your baby receives the necessary nutrients while avoiding excess saturated fats. Importantly, Holle formulas are entirely devoid of trans fatty acids, which are known to be detrimental to health. This commitment to fat quality underscores Holle's dedication to your baby's well-being.
Carbohydrates: The Power of Lactose
The European Commission, renowned for its stringent standards, sets the bar high for baby formulas. One of these requirements is that at least 30% of the carbohydrates in baby formulas must come from lactose. This stands in stark contrast to the United States, where no such standard exists, leading to some American formulas resorting to sucrose, a type of table sugar, as a carbohydrate source. It's crucial to recognize that sucrose is outright banned in European formulas due to its unsuitability for infant nutrition.
The choice of lactose as the primary carbohydrate in Holle formulas mirrors the composition of breast milk, making it an optimal selection for your baby's nutrition. Lactose, a natural sugar found in milk and dairy products, is particularly beneficial for infants. It serves as a robust source of energy, critical for their physical and cognitive development. Additionally, lactose actively promotes the maintenance of beneficial gut bacteria and facilitates the absorption of essential calcium. Infants are biologically equipped to produce the lactase enzyme, vital for breaking down lactose into glucose and galactose, usable energy sources for their growing bodies.
Holle's unwavering commitment to optimal digestion is further evident in their combination of lactose and maltodextrin. Maltodextrin, derived from starchy foods like corn or potatoes, represents a natural-based carbohydrate that works as an excellent sugar substitute. Importantly, it is significantly gentler on your baby's sensitive stomach than alternative sugars such as sucrose, ensuring comfort and ease of digestion.
Proteins: Building Blocks of Growth
Protein emerges as one of the fundamental building blocks essential for your baby's thriving growth. Inadequate protein intake can lead to a host of health issues for infants, underscoring the significance of a balanced protein source.
Holle formulas excel in this aspect by providing a well-rounded source of whey and casein proteins, each contributing distinct benefits to your baby's development. Whey proteins, known for their rapid digestion, provide quick bursts of energy, ideal for the active phases of infant life. On the other hand, casein proteins, characterized by their slow digestion, offer sustained energy, ensuring your baby's nutritional needs are met over time.
What sets Holle apart is not just the quality of these proteins, but also their origin. Unlike some US baby formulas where protein can be synthetically manufactured or derived from cows potentially treated with antibiotics and growth hormones, Holle's protein sources come exclusively from organic, free-roaming cows. These cows graze on pesticide-free pastures, leading to healthier and more sustainable protein content. Furthermore, Holle ensures their formula mirrors the protein ratio found in breast milk, with a higher whey content, facilitating proper digestion and overall health.
In essence, Holle's meticulous attention to macronutrient balance sets the stage for your baby's optimal growth, ensuring they receive the essential nutrients necessary for a healthy, happy start in life.
What You Won't Find in Holle Baby Formula
Holle formulas are GMO-free, void of soy, nuts, synthetic additives, or preservatives, guaranteeing your child's safety and health.
Holle's Organic Formulas Adapt to Your Baby's Growth
Holle recognizes that a baby's nutritional needs evolve with age. Their formula stages cater to these needs, ensuring your baby receives the right nutrients for each developmental phase.
Nurturing Newborns: 0-6 Month Formulas
Newborns possess underdeveloped digestive systems, necessitating a unique formula for easier digestion. Holle's 0-6 month formulas are thoughtfully crafted to meet the specific demands of this delicate phase, ensuring that your baby receives the essential nutrients tailored to their age.
Supporting Growth: 6-12 Month Formulas
As babies transition to solid foods, their nutritional requirements evolve. Holle's 6-12 month formulas are meticulously designed to align with the changing needs of growing infants. This stage-specific formula provides the essential nutrients vital for their continued development.
Fueling Toddlerhood: 12+ Month Formulas
Toddlers aged 12 months and beyond have distinct nutritional needs reflective of their advancing growth and development. Holle's stage 3 formula, designed for toddlers, caters to these specific requirements, ensuring your child receives the right nutrients to thrive during this critical stage.
Holle Goat Milk Formula: A Gentle and Nutrient-Rich Choice
Holle extends its commitment to exceptional infant nutrition with its range of Goat Milk Formulas, specially crafted to cater to the unique needs of some babies. Goat milk, with its distinct properties, offers an alternative that can be gentler on sensitive stomachs while delivering essential nutrients.
Why Goat Milk?
Holle recognizes that not all infants are alike, and some may have sensitivities to cow's milk or simply thrive better on an alternative source of nutrition. Goat milk stands as an excellent choice due to several key advantages.
Easier Digestibility: Goat milk proteins form smaller, softer curds in the stomach, making them easier to digest. This can be especially beneficial for infants with sensitive digestive systems, reducing the likelihood of discomfort or digestive issues.
Less Lactose: Goat milk naturally contains less lactose than cow's milk. For babies who struggle with lactose intolerance or excessive gas, goat milk can provide a gentler option.
Rich in Nutrients: Despite its lower lactose content, goat milk is rich in essential nutrients such as calcium, protein, vitamins, and minerals. It provides a strong foundation for your baby's growth and development.
Conclusion
Holle organic baby formula is a trusted choice for parents dedicated to providing the best nutrition for their infants. With a diverse range of options, including organic cow milk and goat milk formulas, Holle ensures that every baby's unique needs are met. The Demeter Certification highlights their commitment to biodynamic farming practices and premium ingredient quality. Holle's meticulous balance of macronutrients, transparency in ingredient sourcing, and stage-specific formulas make it an ideal choice for infants as they grow.
With Holle, parents can rest assured that they are providing their babies with a solid foundation for a healthy and happy start in life.
Frequently Asked Questions (FAQs)
💭 Is Holle formula FDA approved?
Holle formula is made in Europe rather than the United States. Hence it is not FDA-approved. However, it does adhere to the rigorous criteria imposed by the European Commission, which is renowned for its strict restrictions on organic products and certified organic by the European Union. Also, Holle formula is frequently endorsed by medical specialists and trusted by parents worldwide as a secure and high-quality alternative for newborn formula.
💭 Why is Holle formula the best?
Holle infant formula is regarded as one of the best options since it includes premium, organic ingredients that are carefully obtained and prepared to guarantee that newborns receive the highest nutrition and safety. The formula is developed to resemble the content of breast milk closely. It is free from dangerous additives and artificial flavors, making it a great alternative for infants who cannot be breastfed. Furthermore, the Holle formula contains vital nutrients like DHA and ARA that assist a baby's healthy brain development.
💭 Can you get Holle formula in the US?
Online merchants and specialist shops that import European baby items, like OBF24, make Holle formula available in the US. Parents should buy the Holle formula from a reliable and trusted source to assure its validity and safety.
💭 Has Holle formula been recalled?
No, the Holle formula has never been recalled. Holle is a reputable brand that considers quality control and safety extremely seriously. They undergo comprehensive testing and quality checks to ensure their goods meet the highest standards.
💭 Is Holle formula close to breastmilk?
Holle formula offers a balanced and nourishing substitute for infants who cannot be breastfed. The Holle infant formula is made with carefully chosen organic ingredients to closely resemble breastmilk's nutritional profile, while it may not be exact.
💭 Can I mix Holle Organic Infant Formula with breastmilk?
Yes, you can mix Holle Organic Infant Formula with breastmilk. It's important to follow the packaging instructions and consult with your pedia if you have any questions.
💭 What country is Holle from?
Swiss-based Holle is a popular brand throughout Europe. Since its founding in 1933, the business has become a reputable and well-known name in the organic baby food sector, providing a large selection of premium baby formula, cereals, and porridge items. Holle purchases its organic components from reputable, certified farms throughout Europe, and their goods are manufactured and packed according to high standards for quality and safety.
💭 Is European baby formula better than American?
Due to the more stringent laws and standards established in Europe, European baby formula is frequently thought to be of superior quality to American baby formula. Several toxic compounds and preservatives included in American formulas are absent from European formula commonly manufactured from premium, organic components.
💭 What are the steps for preparing Holle Formula?
Here are the general steps for preparing Holle Formula:
Wash your hands and sterilize all the equipment you will be using, including the bottle, nipple, and utensils.

Boil fresh water and let it cool.

Pour the desired amount of water into the bottle.

Add the correct amount of Holle formula powder to the bottle according to the instructions on the packaging.

Close the bottle and shake it well until the powder is completely dissolved.

Before giving the formula to your infant, test its temperature on your wrist.
💭 What is the shelf life of prepared Holle formula?
One hour after preparation, Holle formula must be consumed. Any formula not used within this period must be thrown away.
Author: Laura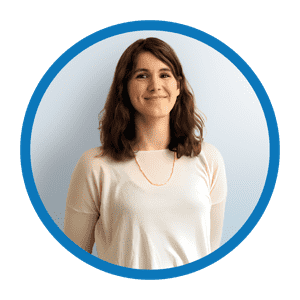 👋 Hey, I'm a proud mother of two wonderful children. I've been working at OBF24 for 6 years as a formula expert and am part of the customer support team. I love being able to help customers find the perfect formula for their little ones and provide support with any questions they may have.
Drop me a message ›
FEED YOUR CURIOSITY: CHECK OUT THESE MUST-READS
PARENTS TRUST US. GUARANTEED.

Should you find a lower price elsewhere within 48 hours of ordering, we will match the lower rate.

If a formula isn't right for your baby, you'll receive a store credit for two boxes to try another brand.

All orders are shipped using insured express delivery, guaranteeing their arrival in only 2-5 business days.

Our team of formula experts usually responds to your emails within just a few hours on average.
PARENTS TRUST US. GUARANTEED.

Should you find a lower price elsewhere within 48 hours of ordering, we will match the lower rate.

If a formula isn't right for your baby, you'll receive a store credit for two boxes to try another brand.

All orders are shipped using insured express delivery, guaranteeing their arrival in only 2-5 business days.

Our team of formula experts usually responds to your emails within just a few hours on average.
🇪🇺 EUROPEAN FORMULA
vs.
AMERICAN FORMULA 🇺🇸
---
Many baby formulas appear similar at first, but any detailed comparison will make it self-evident: the world's best baby formulas come from Europe.
🇪🇺 EUROPEAN FORMULA vs. AMERICAN FORMULA 🇺🇸
---
Many baby formulas appear similar at first, but any detailed comparison will make it self-evident: the world's best baby formulas come from Europe.
Move to compare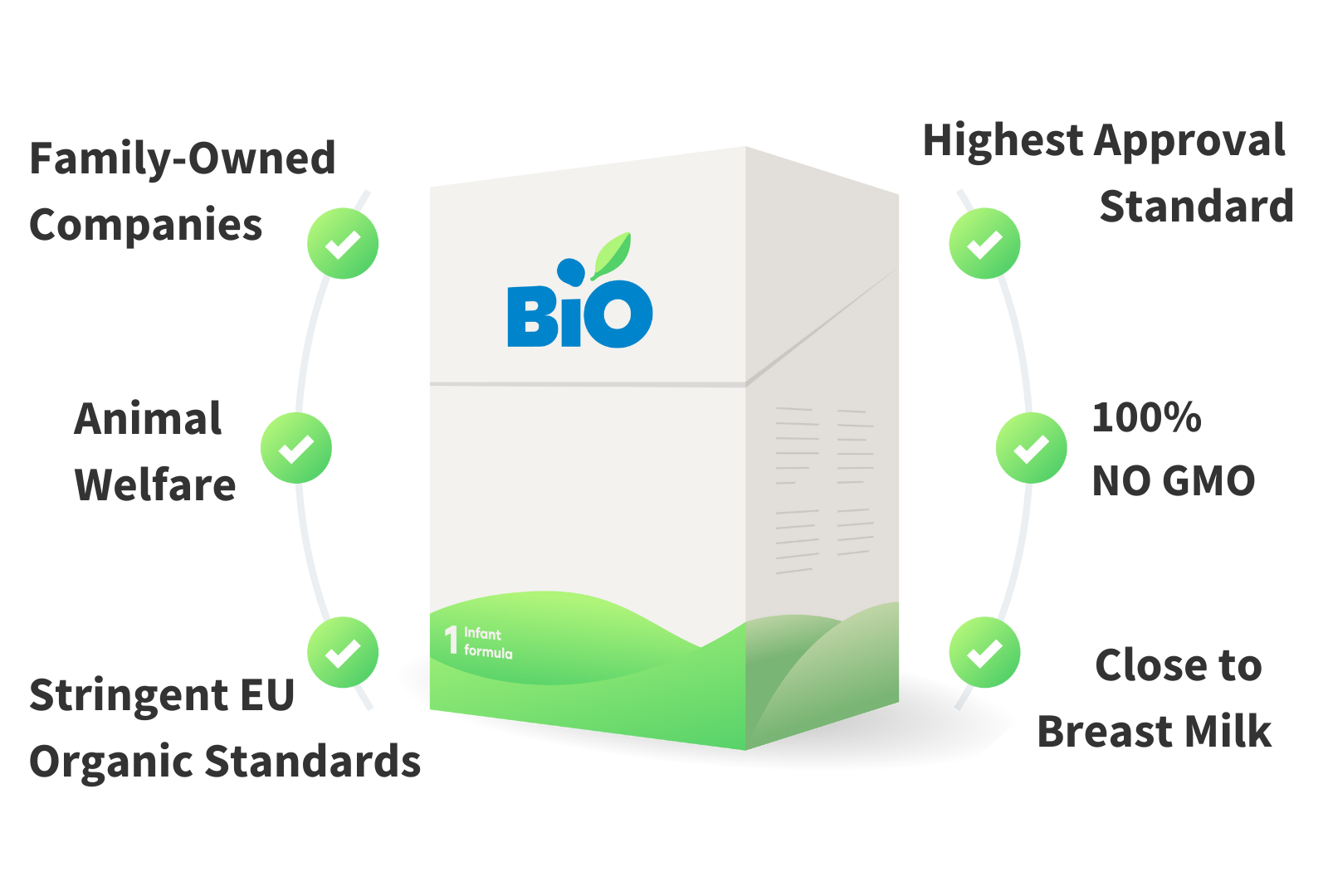 Move to compare
🤔 ARE YOU STILL FEELING A LITTLE UNSURE??
No worries! We know a parent's formula-feeding journey is personal, unique, and sometimes challenging. We at OBF24 are proud to have a team that can help guide you along the way.